The weather didn't look good for weeks before the start of the 2017 Everglades Challenge. The forecasts were remarkably steady even 10 days out. NNE winds 20 – 25 before moving more easterly. Every WaterTriber driving to Ft Desoto on setup day gets a hint of things to come as white-capped Tampa Bay comes into view, and then the enormous American flag snapping on its pole at the park.
Setup and inspections went as usual, with a remarkably short briefing then off to dinner where the texting topic was how Chief would deal with the small craft advisory in effect. It didn't bode well, and it wasn't well.
At 0645 Saturday Chief walking down the beach telling everyone "There will be no start today. Come attend the meeting". The decision had been made to restart tomorrow from CP1. Get there however you like as long as it's not from here. The coast guard will not allow a launch into the shipping channel with small craft advisories posted, and the advisory would not be coming down anytime soon. My wife had to leave for a funeral so I was left in the care of KayakVagabond and his girlfriend Pauline. After packing two boats and all our gear onto their Subaru we decide to get some paddling in today. Good advice from Gregs friend Doug had us at a nice spot at the end of Vamo Rd in South Sarasota Bay. That put us into CP1 30 miles later feeling like we did something with the day. Pauline had brought beer and pizza and a small party started. This was pretty cool, camping right next to the starting line, so much easier than camping at Ft Desoto though it was snug. In the back of my mind I was thinking all we had done was kick the can down the road. At least the Coast Guard would not be a problem but Boca was likely going to be frisky.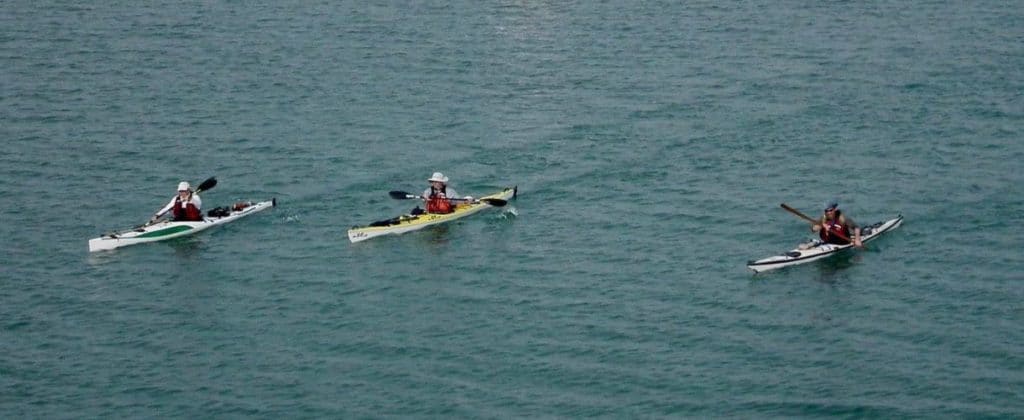 MicroTom started the fleet at 0700 and we are off. KayakVagabond, MoquitoMagnet, SpiritWalker and I cruised together past Placida and split up. Boca Grande was indeed frisky and it got worse towards the South side. The wind was abeam if not quartering from ahead and the swell was 3-4 feet some with sloshing tops that would break on you. I rounded up into some that looked particularly menacing but made it across fine. Matlatcha would be better but getting there didn't look like fun. I'd been here before and made getting into the shallows my priority. I turned east at Useppa island after seeing KayakVagabond making for the intercoastal which seemed like the last thing I would want to do. MosquitoMagnet and SpiritWalker were nowhere in sight, I assumed they made for Matlatcha. It always feels like you're making a mistake when no one is going your way but nothing good ever comes from following. I worked south finding a way further east after Coon Key which put the houses on stilts west of me. This left me in nicely protected water and I made it to Long
Cutoff just past Galt Island without issue. I worked my way up to Picnic Island where two sailboats, LowRider and Sawhorse were taking a break. We chatted for a bit and I headed for the Sanibel Bridge. San Carlos bay to Estero point really sucked. A nasty short chop and headwind that made for slow going. In hindsight it was a mistake, but I opted to go inside to Wiggins Pass which seems like a much longer trek than outside. I arrived Wiggins at 2330, setup the tent and KayakVagabond showed up. I awoke at first hint of dawn. Greg was long gone and I had a long day to CP2 (Chokoloskee). The next 4 hours was the only sailing I enjoyed the entire EC. I made good time but had to lose the sail past Naples when my course changed a bit to the east. I went in at Big Marco, up the Big Marco River where I overtook a Hobie AI beating to weather that had blown by me down the coast. I do love the view of the gulf once around Goodland! This is where the EC really begins, where the boats and condos end. As expected the turn south left me with a nasty headwind. Head down and paddle, setting the trip log to see what my SOG (speed over ground) is as I'm chasing high tide at Indian Key. I considered ducking in early but I'd been burned doing that in the past only delaying the southward slog. It turned dusk as I made my turn and was successful in catching the end of the flood!
I arrived CP2 at 2030 and was greeted by RidgeRunner and WhiteCaps who asks if I intend to keep my boat ashore while I'm ashore. It took me a moment to catch the slap but thanked him for the reminder of my boat drifting away in the night not being pulled up high enough last year. KayakVagabond, MosquitoMagnet, and SpiritWalkers boats were already on the beach having arrived 45 minutes earlier. SpiritWalker was packing up his gear having injured his elbow ending his challenge.
Usually I would depart for a random island somewhere down the coast catching the tide out but it had been a long day and it sucked outside. I pitched tent and got a hot shower at the WaterTribe room where MM and KV were sleeping on the same bed. I retired to my tent and was out pronto.
I woke at dawn and heard that KayakVagabond & MosquitoMagnet left in the early AM.  I'd assumed they would leave early, and while breaking camp debated with myself if I'm a slacker for sleeping in. Prepping the boat for the run to CP3 (Flamingo) I began stressing  about how much water to bring.  I filled both 3 liter bladders, two 1 liter bottles, and mixed a couple of Perpetuems for the day.
Unable to convince myself that was plenty a little dumpster diving yielded three clean 20oz bottles. No, this isn't very scientific at all. I know what I had was more than enough but my brain will start nagging me once I'm an hour out. I joined a group of "walkers" making for the opening of the Cuban Café. If I'm a slacker I will be a well fed slacker dammit.
The two breakfasts were wonderful and I got a third to go. The tide is halfway in and it is the first time I have ever dealt with Choko mud. I was delighted to find it's no big deal at all! Straddle the boat, lean on it to reduce your feet sinking in the mud and push. In no time I was afloat and cleaning my feet with a sponge.
Rabbit Key pass was fine even with an incoming tide. I turned south and tried to stop wondering if I have enough water. Around noon I pass New Turkey Key and I become depressed. Usually I would be leaving here before dawn for Flamingo letting me navigate Whitewater Bay in the light and arrive CP3 before or slightly after sundown. Shit. It will be dark before Graveyard at this pace. Then there is the tide. The entire day becomes a focus on SOG and whether or not I will make Ponce DeLeon Bay by high tide which my GPS says happens at 2045 at the Shark River entrance so the entire day becomes a race against that. It's not a bad day weather-wise, not hot so I'm not guzzling water, the wind isn't as bad as yesterday and early predictions say I may make the entrance by 2000. Passing Lostmans River I see the upwelling I've seen almost every year. It's odd because I'm at least a mile offshore. The first time I thought it was a pod of manatees, now I wonder if it's just current from the river over an uneven bottom. I've mentioned it to others who have seen the same and have no good explanation.
I stopped at Highland beach to eat my breakfast to go which is a wonderful break from the food I now despise and rig for night turning on the stern light, making the wool hat, heavier shirt, and 2 headlamps available In the day hatch.
I passed graveyard which is still about 4 miles from the entrance realizing I will be nearly an hour late for high tide. I'm assuming that I will run out of ride somewhere in the 16 miles of Whitewater bay and decided to go right down the middle. The last time I'd done the middle it was against the tide and it seemed once in the open bay the current is less than Joe River. Another reason is Joe River at night can be a bitch to navigate. As I entered it seemed I would have a ride for a while. I could see and feel the current. A couple of miles in, before opening into the bay I heard a burble of water ahead and my heart sank. I thought I was going run into a tide line of the reversing tide. To my delight I picked up even more speed. Once in the open bay I had no visual way to gauge my tide ride other than the GPS which said I was having a great time! I was tired and really sore by now. Halfway through I was wondering if I needed to pull a JungleJim and stuff the bow into some mangroves and try to nap. The thought of waking up upside down gave me the inspiration to try cursing and tribal scream therapy which helps for a while. Hopefully, no one on a chickee can hear me.   My ibuprofen is in the forward hatch and I really want at it. Midway Keys are better than 2/3rd the way across the bay and as I pass the point I can see what might be hard bottom. I backed down and am wondering why I'm having such a hard time getting where I want when I realize I'm still riding a flood! I get out, retrieve the Ibuprofen and take 1000mg. Thirty minutes later I'm pain free and in a really good mood! I cannot believe I'm riding a tide all the way across Whitewater Bay! It's good to see Buttonwood canal then Coot Bay which is behaving better than usual, then the long boring but easy ride to Flamingo.
At 0111 I arrived at CP3 and was greeted by KayakVagabond. He had arrived 30 minutes prior and is in his camp clothes. I had already made a deal with myself that if Florida Bay looks OK I would keep going. Greg hands me a beer. This is a dilemma. Refusing the beer and saying I'm continuing is tantamount to kicking a pit bull making it chase me. The beer looks good though so I accept and say "Thanks Greg, but I'm not sure I'm staying".
We wheeled our boats over to the ramp area and I learn MosquitoMagnet had left sometime after midnight. I'm back on the water in just over an hour, and I still had half my water left! This was the first time I did not camp at CP3. I laughed thinking I might beat my wife to the finish if she assumed I'd camp.
The paddle started fine, just a light headwind. The main issue was a low overcast with occasional light showers that obscure any stars to help maintain a course. If I found an interesting cloud I'd use that as reference but had to consult the GPS occasionally as clouds tend to move. The overcast made for a horrible glow over Miami that extended down to the horizon which enabled the persistent hallucination I was on a highway trying to avoid hitting the retaining wall to my left. There are usually a few cool things that happen in an EC and I finally got a couple. A dolphin escorted me for at least 15 minutes, always surfacing to my left. I thought perhaps my boat was spooking fish his way. Then the phosphorescence started up around my paddle blades and wake. It was bright enough to notice as a glow behind me. An overhead video would be very cool.
The glow of dawn started as I entered Crocodile Dragover. I was mentally exhausted, happy to have solid visual references for a change.  The wind began to freshen which made for a slow passage to Park Key. I had been referring to prior tracks in the dark and should have reverted to waypoints because I was not reconciling why the GPS wanted to drive me into an island. I was zoomed too far in to see the where the track went and as a result I did indeed run straightmore into Park key. Oh Boy that was not cool.
A half mile jog south and I was able to get out of the boat at the cut, stretch, and stuff Fritos in my face which I hoped would cheer me up and put sense in my head. Only 8 miles to go with seemingly no navigational challenges!
I cleared Swash Key and make for the way point called "Finish". Seems straightforward enough but it just doesn't look right. My brain, which had crashed hours ago is second guessing a tried and true waypoint! Even the enormous radio tower seems like a trick. Maybe I have to be coming from the south for the tower to be right.
Despite myself I find the right dock. I'm surprised and happy to see my wife DJ on the dock. PaddleDancer announces I'm first kayak to the beach!  As I clear the dock I see the only other boat on the beach is Sew Sews go fast tri hull. It started to sink in that I had indeed had a good run. Finally a year in which paddlers beat out most sailboats. Mosquito Magnet took Twisty Mile and arrived 20 minutes after me. I got out of the boat and promptly back peddle and fall in. A good thing, I really needed a bath.
I'd left CP2 about 26 hours prior and covered 92 miles in one sitting. I had paddled through the night a couple of times in the Ultimate Florida Challenge and knew there was a toll to pay the next day. I had 2 solid sleep cycles before the last push in this EC. Loss of mental capacity is inevitable when sleep deprived and I wasn't too far away from being a hazard to myself. "Bones" wrote a great accounting of his adventure  http://captbones.com/ and was courageous enough to standup at the awards and share.  I have made gear changes as a result of his accounting.
See you on the beach!